Cristiano Ronaldo is back – and the chance to further enhance his status as a Portugal legend awaits this week, writes Peter Smith.
The five-time Ballon d'Or winner missed six internationals following Portugal's early exit from the 2018 World Cup, including their entire Nations League campaign.Sponsored link
But he returns to international football on Wednesday, aiming to fire his side past semi-final opponents Switzerland and into Sunday's final showdown for the inaugural Nations League crown.
While the competition is still in its infancy, a triumph on home soil would be another standout chapter in Ronaldo's impressive story with the Portugal national team.
Here, we look at some key moments in his international career and speak to Portuguese football journalist Tom Kundert about the way Ronaldo is viewed in his homeland…
Breakthrough performance in Euro 2004 in Portugal
"At the time he was another very talented Portuguese kid and fans had high hopes for him – but if anyone tells you they truly believed he would go on to achieve what he has they are probably lying," says Kundert of Portugoal.net, reflecting on Ronaldo's burst onto the international stage ahead of Euro 2004.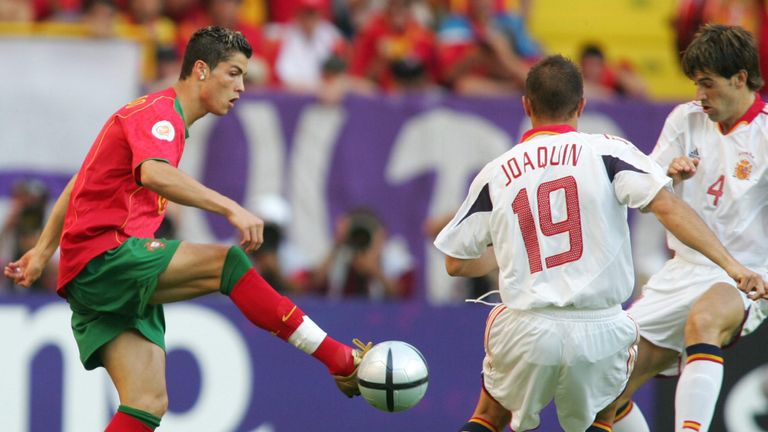 Ronaldo had made his Portugal debut as an 18-year-old in 2003 and become the world's most expensive teenager in August of that year when Manchester United signed him from Sporting Lisbon following that performance against Sir Alex Ferguson's side in a pre-season friendly.
His first season at United saw him score four times in the Premier League and find the net in the FA Cup final win over Millwall. But while there were flashes of his potential, he was not yet a first-choice starter for Portugal when he was called into the squad for Euro 2004. By the end of that tournament, there was no doubt about his trajectory.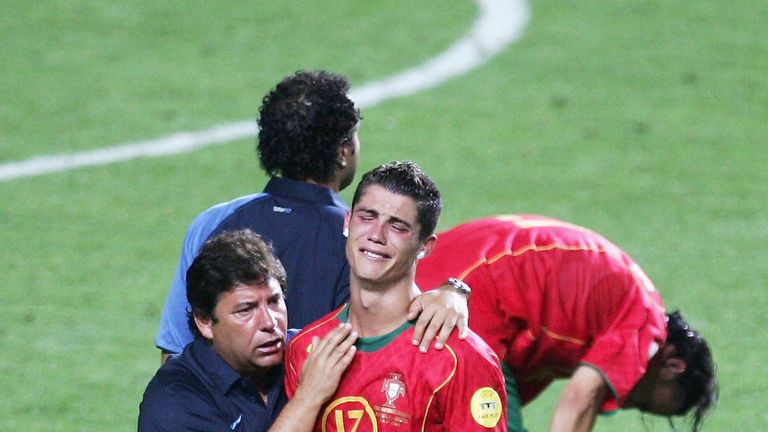 Ronaldo headed in his first international goal in a group-stage loss to Greece, kept his cool to convert from the penalty spot in Portugal's shoot-out win over England in the quarter-finals and nodded in another to put his side on course for a 2-1 semi-final win over the Netherlands.
While Greece pulled off one of the all-time greatest upsets to beat Portugal in the final and leave the hosts – and Ronaldo – devastated, the forward had shown his ability to deliver on the biggest stage and was named in the team of the tournament with two assists and two goals. Lift off.
Ronaldo's Portugal records
Most caps: 154
Most goals: 85
Stepping up as leader at Euro 2012
Ronaldo had backed up his 2004 breakthrough by playing a key role in Portugal's run to the semi-finals of the 2006 World Cup – featuring that infamous wink after Wayne Rooney's red card – and scored eight times in qualifying for Euro 2008, where Portugal reached the quarter-finals.
But, amid a world record £80m move to Real Madrid in the summer of 2009 and having been named Portugal captain 12 months earlier, Ronaldo went goalless during the 2010 World Cup qualifying campaign, eventually breaking a 16-month duck in a 7-0 rout of North Korea, his only goal of the finals before Portugal were knocked out in the round of 16 to Spain.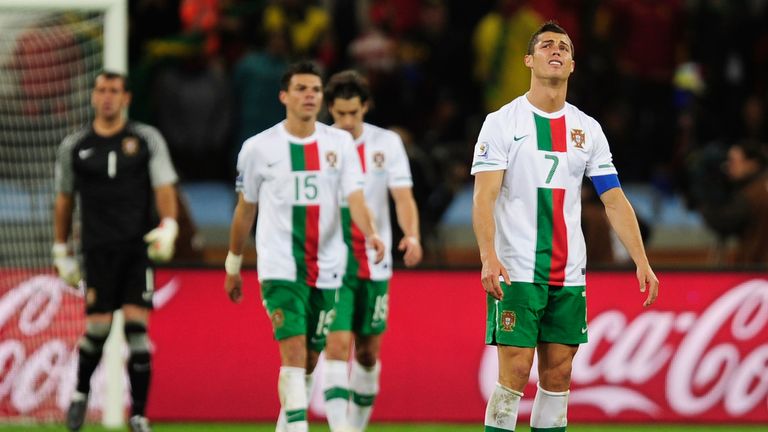 Ronaldo's rival, Lionel Messi has a complicated relationship with his national team's supporters, with many Argentina fans critical of him for not reproducing the remarkable feats he displays for Barcelona on a frequent basis in the Albiceleste of his country. During this period of Ronaldo's international career there was a danger he could follow a similar route.
"That used the be the case of Ronaldo for several years when he was tearing it up and breaking records at Real Madrid and not really doing it for Portugal," explains Kundert. "But that has all changed in the last half-dozen years as he has been the saviour and hero for Portugal on so many occasions."
Euro 2012 saw Ronaldo return to form on the international stage. After scoring seven times in qualifying – plus twice putting Portugal ahead in their decisive second-leg play-off 6-2 thrashing of Bosnia – Ronaldo hit another double against the Netherlands in the final group game at the finals to send his side into the knockouts. There, he was on hand to head home the only goal of the quarter-final tie with Czech Republic.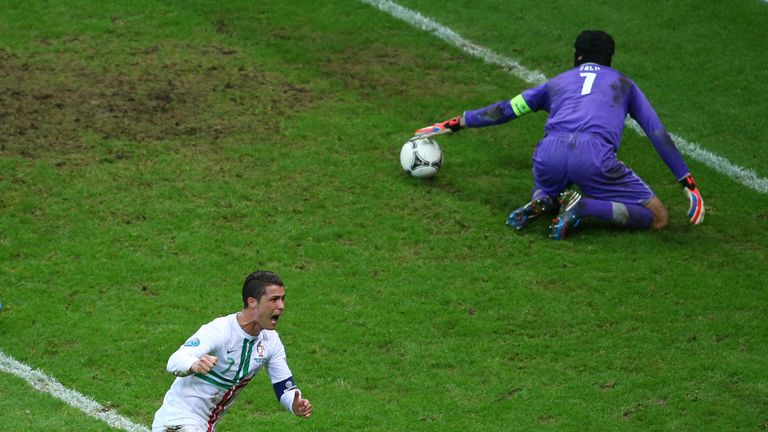 A semi-final penalty shoot-out defeat to Spain – in which Ronaldo controversially wasn't used as he had requested to take the fifth effort – saw Portugal again come up short but Ronaldo had taken them to the brink.
Individual play-off heroics to take Portugal to 2014 World Cup
Ronaldo has single-handedly propelled Portugal to victory on countless occasions in the past but his performances in the 2014 World Cup play-offs against Sweden in November 2013 stand apart. The second leg, in particular, saw him drawn into a mano e mano battle against Zlatan Ibrahimovic; two huge talents, two huge egos fighting for their place at the Brazil showpiece the following summer.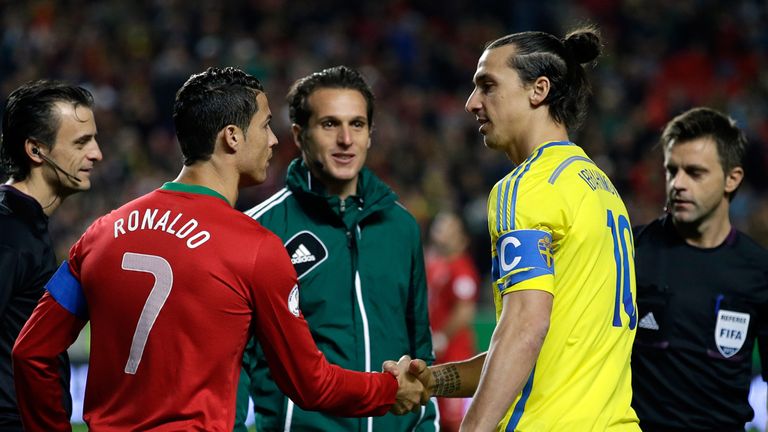 "It was a huge moment. It was his greatest individual performance in a Portugal shirt," says Kundert. "He single-handedly got a not-the-best Portugal team to the World Cup."
Ronaldo had already given Portugal a one-goal advantage from the first leg when they headed to Sweden, and put them in control with a clinical finish in the second half. But that sparked a wild half hour, with Ibrahimovic pulling Sweden level with two goals of his own – before Ronaldo responded.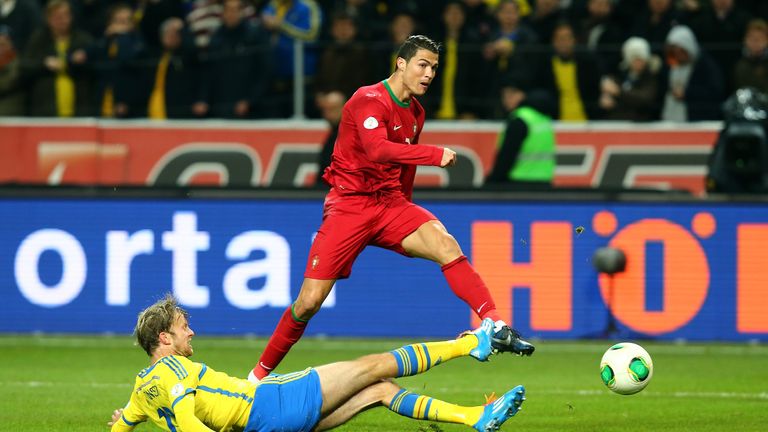 A left-foot finish capped a lightning-quick counter-attack and another quick break ended with Ronaldo taking the ball away from the Swedish keeper before firing into the roof of the net to all-but end the tie as a contest. The headlines all belonged to him.
Inspiring his team to Euro 2016 glory
Given the remarkable feats of individual brilliance conjured up by Ronaldo for Portugal throughout his time on the international stage it is ironic that, although his influence on the outcome was still huge, Ronaldo was sidelined for the majority of Portugal's first win in a major tournament final.
He had played his part along the way: he scored twice in the final group game against Hungary (after a host of missed chances in Portugal's opening fixtures) to put them into the knockouts; the rebound to his quarter-final extra-time effort against Croatia was turned in; and he scored one and set up another in the 2-0 semi-final victory over Wales.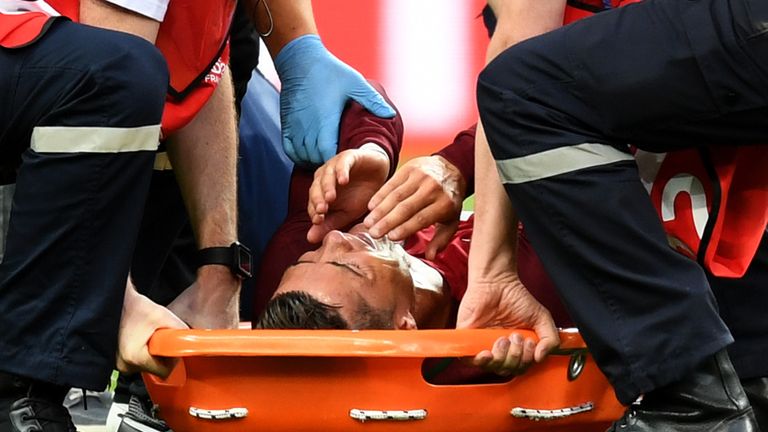 But cruelly, Ronaldo – Portugal's captain, talisman, record breaker and icon – was forced out of their final with France with injury after just 25 minutes, following a fierce challenge from Dimitri Payet. There were tears, treatments and numerous attempts to play on before, eventually, came the realisation Portugal were going to have to do it without him.
That wasn't the end of his involvement, though. From the bench, Ronaldo kicked every ball, lived every emotion of his team-mates out on the field. By extra-time he was out in the technical area passing on instructions, darting around boss Fernando Santos to convey his own messages on how to win, coaching. And then, there he was again, at the centre of the celebrations, after Eder had fired Portugal to their first major honour.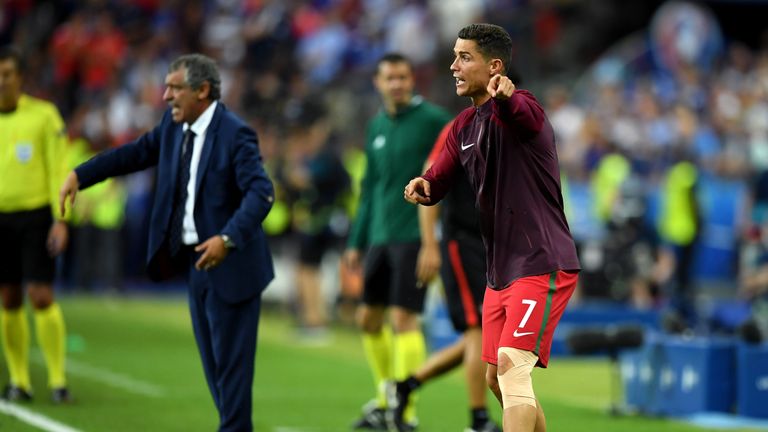 "It was almost like a movie," says Kundert. "Here is the captain, the greatest Portuguese player of all time, about to play in the most important match in his career, and he is forced off injured early on – seemingly ending Portugal's faint hopes of causing a huge upset.
"He took a while to compose himself but his whole demeanour and attitude the rest of the time showed how much he cared. The players revealed he gave a rousing speech at half-time, telling them they had the beating of France, and the footage of him in the dressing room after the match is very revealing for those who think he's all about personal glory.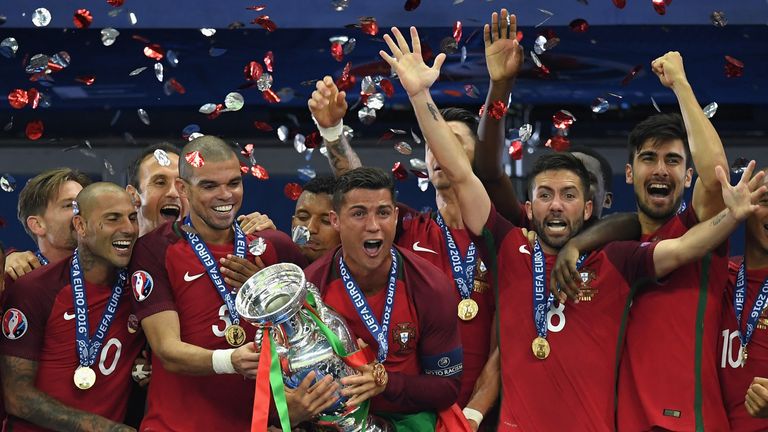 "He repeatedly says it is the greatest achievement of his career, a historic moment, he would not swap it for any personal or collective trophy he had ever won. He was a real leader at that tournament and even though he did not play much of the final, Portugal simply would not have got there without him. He scored three and assisted three of the nine goals Portugal scored in France."
After records tumble at the 2018 World Cup will Nations League success follow
The 2018 World Cup may have been an underwhelming one for the European champions but for Ronaldo it was a competition filled with landmark moments.
He scored 14 goals in qualifying, a record for a European player, which took his career tally in World Cup qualifiers to 29 – another record. He made his 150th appearance for his country in a World Cup warm-up and was off to a fast start in Russia with a dramatic, brilliant hat-trick against Spain. His winner against Morocco took him past Ferenc Puskas as the top-scoring European in international football.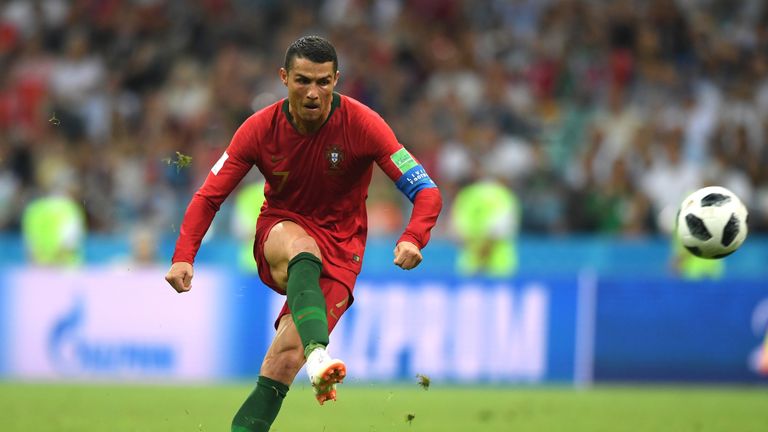 The stats and records just keep on flowing. And more history could be made in Portugal this week. Favourably for the hosts, it appears a talented young crop of players could also be emerging to help take some of the burden from Ronaldo.
"Excitement is steadily increasing in Portugal," says Kundert. "Ronaldo is always under pressure to perform and he usually delivers, but I would say that for the first time in a long time, perhaps even since Ronaldo broke into the team in 2003, Portugal has a range of truly potent goalscoring threats that will take the burden off Ronaldo.
"Joao Felix, Diogo Jota, Bernardo Silva and Bruno Fernandes have all enjoyed magnificent seasons and scored goals galore so Portugal should not be so reliant on Ronaldo as in the past."
But don't expect Ronaldo to be giving up much of the limelight just yet. His story is far from over, says Kundert. "Ronaldo has an insatiable appetite for breaking records – most his own when it comes to Portugal!"